The terms and conditions of your Paging Service Agreement with Two-Way Radio Service, Inc. "t/a TWR Communications" have been amended to include the following notification: NOTICE TO SUBSCRIBERS REGARDING TRANSMISSION OF WIRELESS EMERGENCY ALERTS (Commercial Mobile Alert Service), Two-Way Radio Service, Inc. "t/a TWR Communications" presently does not transmit wireless emergency alerts. Notice require by FCC Rule 47 C.F.R.Y. 10.250 (Commercial Mobile Alert Service).
Paging Coverage Map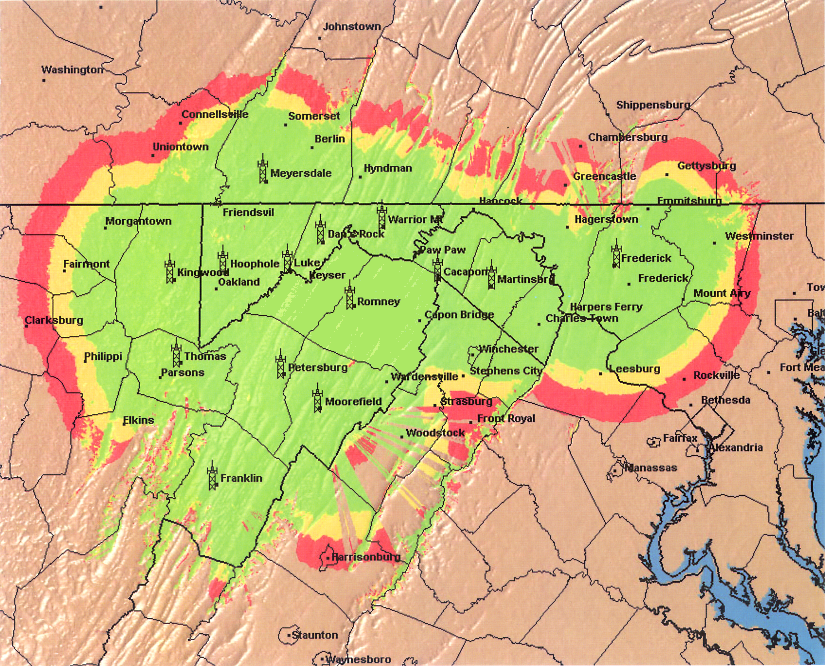 How Can a Pager Work for You?
Families: a pager can keep you in touch with your busy teenager, spouse or babysitter.
Business Professionals: enjoy freedom and the piece of mind by being in touch with the office without having to wait at home for a phone call.
Travelers: whether you travel for fun or with your career, stay accessible to your friends and family in the event of an emergency with a pager.
Voicemail: this feature allows voice messages to be stored for later retrieval and your pager will be alerted each time a message is stored.
Pagesaver: stores all pager phone numbers that are sent to your pager to ensure that you never miss a message, even when you're out of range. Simply dialyour pager number to recall your pages!
Custom Voice Prompt: allows you to record your own greeting. You may personally create or change the outgoing message when someone dials your pager number.
Use your imagination! A pager can help in many ways for personal use or strictly business.
---
Network Reliability
All of TWR's paging facilities, including mountain top transmitters, are equipped with standby power so that when the power is off, and the other paging carriers are down, TWR is still up and running! All sites have backup batteries and eleven key locations have propane powered generators.
Network testing is performed at 15 - minute intervals everyday of the week including weekends! All transmitters in our regional area are automatically monitored on a continuous basis so that we can quickly detect a fault or outage and make prompt repairs. Our expanded paging connection is also tested for network integrity.
>Network reliability is also a responsibility of our service department and they are on call 7 days a week to take care of any network problems.
What if I already have a Pager and I want to change?
If you presently own a pager with another carrier that operates on the 150-159 MHz band, your pager can probably be easily changed to work with our 157 MHz network. On many pagers, the frequency is clearly marked on the back near the serial number plate.
If you are interested in switching to our service, give us a call and we will be glad to answer your questions. We can supply a free loaner pager while yours is being converted. We also have a program where you can trade-in your pager to get a discount on the purchase of a new one.
---
Wireless Pagers & Services
Today there are several different choices when buying a pager.
Numeric
If it is simplicity that you are looking for, then a Numeric pager is for you. These pagers simply alert by beep or vibrate and then displays a phone number to call. Certain models offer time and date stamping, selectable alerts, vibes, built-in alarm clocks and a backlight. All numeric pagers with standard phone numbers include UNLIMITED pages. This allows customers to use their pager as often as they want without the hassle of overages.
Alphanumeric
If you need more information than a phone number, our Alpha paging services gives you a word for word text message that displays on the screen of your pager. Text messages may be sent to alpha pagers in several ways. By utilizing the link on the right hand side of this webpage titled "Send a Page.", customers can send a message in their own words directly to any TWR pager. Another option is subscribing to our telephone dispatch service. Dispatching allows you to give your message to a live telephone secretary, 24 hours a day, who will send a text message for you.
TWR is the only company in Western Maryland who has a full sales and service organization equipped to service paging products. TWR also sells assorted accessories to enhance your pagers image.
---
Paging Service Rates
The rates shown below do not include state sales tax and are based on payment at the time of purchase or delivery. Other government fees if imposed by the FRCC may also be applicable. Slightly higher prices may apply for credit terms.
Numeric Service: Starts @ $105.00 per year
Alpha Service: Starts @ $140.00 per year
Dispatch Service: Starts @ $230.00 per year
Other payment plans are available and quantity discounts apply for multiple units. TWR also offers other billing methods including Quarterly and Semi-Annual.
---
Enhanced Services
TWR offers additional features that may be added to your pager. These services include Voicemail, Custom Greetings, PageSaver, 24-hour live dispatching and weather alerts. As always, we offer FREE demonstrations and trials of all our paging services. Once you try any of these additional services, we're convinced you'll want to add them!
---
Phone Exchanges
Pager users may have one number or any multiple combination of telephone numbers assigned to their wireless pager. Additional charges will apply for any additional phone numbers assigned to a pager. These phone exchanges are available as follows:
(301) 784/759/723/724 for the Allegany County area
(301) 334/533 for the Garrett County area
(304) 274 for the Martinsburg-Hagerstown area
TWR offers a toll free option which permits callers from anywhere in the U.S. to call your pager without charge to them. This service includes a lower amount of allotted pages and there are additional charges for each page exceeding limits to cover the cost of calls.
---
Affordable Rates
TWR offers several affordable rate plans with options including semi-annual and annual payment plans. These plans are geared to meet your budget and are competitive with the wireless industry. For a free quote or additional information, please call our paging department at: 301-777-2692. If you would prefer, please feel free to email your questions.